Until further notice, enhanced safety protocols are being followed to better protect volunteers, staff and members of the public at all volunteer events. Please RSVP to all events and only attend if you feel well. We encourage volunteers to bring their own gloves, hand tools, water and snacks. We do have extra gloves and tools to share if needed but water and snacks are not provided. To RSVP or for more information about our COVID-19 enhanced safety protocols, contact volunteer coordinator Christina Bentrup at 541-510-4636 or cbentrup@eugene-or.gov.
Tuesday Morning Regulars – Want to meet other gardeners? Want to learn about plants in the Rhododendron Garden? Join the lively "Tuesday Morning Regulars" as they work each Tuesday in the Rhododendron Garden. Now working throughout the year. Join the Tuesday Morning Regulars at a location posted on the main lawn every Tuesday 9 a.m., and we'll work until Noon.
Forest Saturday Morning Work Parties – Want to be part of the Forest crew, who is slowly but surely restoring the forest in Hendricks Park? The crew removes ivy, does invasive weed removal, trail work, and learns about forest ecology. Be part of the change and join the crew at our monthly work parties on Saturdays. Meet in the picnic area at 9:00 a.m., and we'll work until to Noon. Please email Christina at cbentrup@eugene-or.gov, to sign-up for any Free the Forest event.
Native Plant Garden Volunteers – Join fellow native plant enthusiasts every Thursday from 1:00 pm to 4:00 pm for an afternoon of gardening and knowledge-sharing. Learn about Willamette Valley native plants and how to use them in your home garden while volunteering. Volunteers meet at the Wilkins shelter. For info contact Christina Bentrup, (541) 510-4636 or e-mail to cbentrup@eugene-or.gov.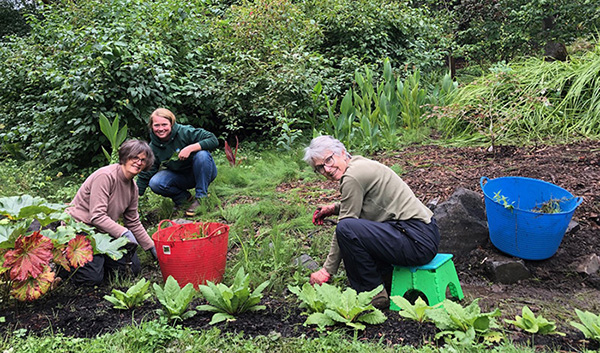 Other Volunteer Opportunities: – If you are interested in learning how a non-profit works, want to become a committee member or Board member, or get involved with fund-raising or other opportunities, contact us at (541) 607-4066 or by e-mail at info@friendsofhendrickspark.org.
Forest Work Parties Calendar
Saturday
February 5, 2022
Free the Forest
Forest restoration
Free the Forest
Forest restoration
Free the Forest
Forest restoration
Free the Forest
Forest restoration
Free the Forest
Forest restoration