Due to continuing health concerns from the Covid-19 pandemic, attendance will be limited to 20 participants for each of these walks. 
Social distancing and mask wearing will be required.  To participate, please sign-up using the link provided for the tour you wish to attend.
Led by local experts and outdoor enthusiasts, these tours introduce new and different ways to appreciate the richness of Hendricks Park. Topics covered by the tours include: forest ecology, rhododendron varieties in bloom, edible and medicinal plants, mushrooms, birding, habitat restoration, among others.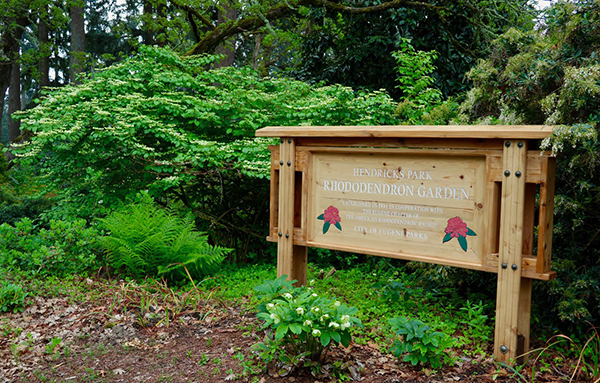 Sunday
September 26, 2021
7:00 am
Wilkins Shelter
Donna Albino and Mieko Aoki: Birding
Join long-time birders and avian educators DONNA ALBINO and MIEKO AOKIfor this early morning park stroll. Learn bird identification through observation of field markings and behavior, and by listening to songs and calls. 
Hear stories and bird lore.
Sunday
October 24, 2021
1:00 pm
Wilkins Shelter
Karen Rainsong: Kalapuya Ways
KAREN RAINSONG, founder of Singing Creek Educational Center, has a passion for learning from and sharing the knowledge of the indigenous people of the Willamette Valley. She will discuss food, medicine, clothing, and land stewardship, as well as share story-telling.
Sunday
November 7, 2021
1:00 pm
Wilkins Shelter

Joe Spivak: Mushrooms
Explore the diverse world of mushrooms with mycologist JOE SPIVAK.  Mushroom enthusiasts will enjoy Joe's wealth of knowledge while hiking along the park's beautiful trails.