Led by local experts and outdoor enthusiasts, these tours introduce new and different ways to appreciate the richness of Hendricks Park. Topics covered by the tours include: forest ecology, rhododendron varieties in bloom, edible and medicinal plants, mushrooms, birding, habitat restoration, among others.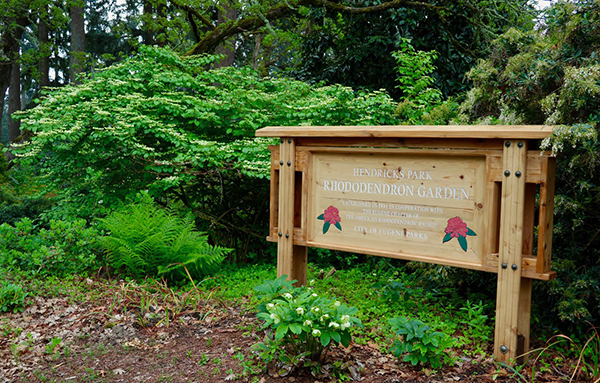 Birding
Join long-time birders and avian educators Donna Albino and Mieko Aoki for this early morning park stroll. Learn bird identification through observation of field markings, behavior, listening to songs and calls. 7 am, Wilkins Shelter.
The Ever-changing Woodlands of Hendricks Park
Whitely Lueck, horticulturalist, naturalist, and dendrophile (tree lover) offers new perspectives on current forest conditions and looks ahead to what the future may hold for eugene's oldest and largest public park. 1 pm, Wilkins Shelter.
Mushrooms of Hendricks Park
Explore the diverse world of mushrooms with mycologist Joe Spivack. Mushroom enthusiasts will enjoy Joe's wealth of knowledge while hiking along the park's beautiful trails. 1 pm, Wilkins Shelter.