Led by local experts and outdoor enthusiasts, these tours introduce new and different ways to appreciate the richness of Hendricks Park. Topics covered by the tours include: forest ecology, rhododendron varieties in bloom, edible and medicinal plants, mushrooms, birding, habitat restoration, among others.
We ask for a $5.00 voluntary donation for each tour.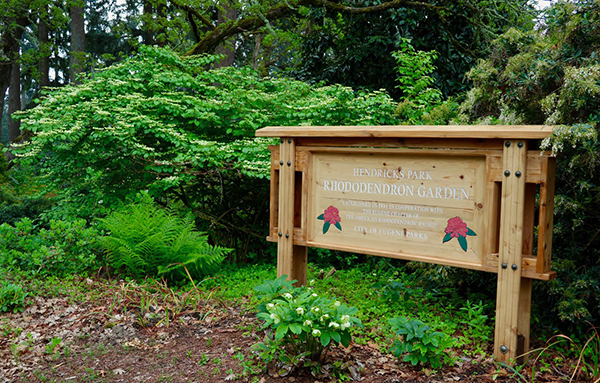 Spring Walking Tours, 2023
Sunday
April 23, 2023
1:00 pm
Wilkins Shelter
Rhododendron Garden
Walk the meandering paths of the resplendent Rhododendron Garden with
Emily Aune
, Hendricks Park head gardener. See unique trees and ornamental shrubs. Get tips on how to care for rhododendrons. Learn about park history and heritage.
Sunday
April 30, 2023
1:00 pm
Wilkins Shelter
Photography and Nature
Gary Tepfer grew up adjacent to Hendricks Park and his career as an international photographer has been informed by those early experiences. A keen observer of nature, Tepfer offers a unique lens through which to view and understand the world. 
Sign-Up Here:  https://www.signupgenius.com/go/10C0F4DAEAE2AA3FF2-photography
Sunday
May 7, 2023
1:00 pm
Wilkins Shelter
Sunday
June 11, 2023
1:00 pm
Wilkins Shelter

Kalapuya Ways
For thousands of years the Kalapuya People visited the land we call Hendricks Park. Karen Rainsong, Director of Singing Creek Educational Center and long-time student of indigenous people, introduces us to the food, clothing, and cultural practices of the Kalapuya. 
Sign-Up Here:  https://www.signupgenius.com/go/10C0F4DAEAE2AA3FF2-kalapuya1